We Invite you to Explore India with us.
We are not a typical tour company. We differ from others in the places we visit, the way in which we travel, the guides/leaders who accompany our guests and the people who join us! And we have cultivated these differences because we want to offer the most informed and authentic experience of India. We want these journeys to be educational and transformative, while being enjoyable and exciting.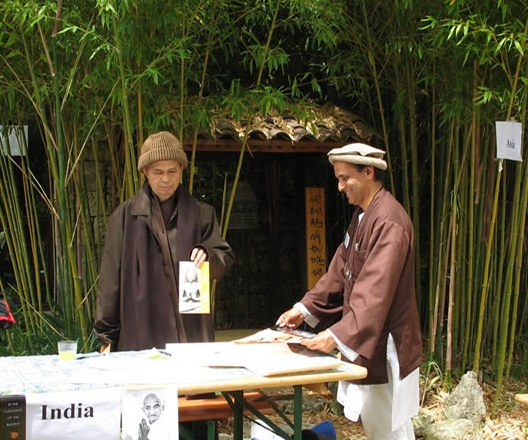 Thich Nhat Hanh with Shantum Seth endorsing "In the Footsteps of the Buddha". Pulm Village 2006
Eleven Directions is 3rd in this august global list (including Plum village and Spirit Rock) of inner journeys in outer spaces. Rating has been done by CNN. Read more...


Journeys of Discovery
You are not just a number to us. You are unique. We are available to assist you - before, during and after your tour. When you get in touch with us you will be speaking to a person who will help you choose the right journey, and craft an itinerary that meets your personal interests and style. The greatest compliment we receive is that so many people choose to travel with us again and again.
Our journeys are exploratory, intellectual and spiritual adventures - more a state of mind than a risky or arduous challenge. Apart from inspiring heritage sights, the real adventure is in discovering new insights, the awe of nature, encounters with new cultures, and the excitement of personal discovery. We offer exclusive personally-tailored itineraries for both first-time travelers to India as also people who have visited India many times. We customize journeys for individuals, for families and groups of all ages who may want to explore different aspects of India.
We even travel down the small paths that conceal hidden wonders - the unbeaten track where the large tour buses can't go! There is no place in India that we can't arrange for you to visit. Besides 5-star hotels, we seek out small boutique hotels and lodges and even homestays where local culture is strong and we can enjoy regional cuisines and traditional lifestyles.
We are keen to let you experience the best of Indian culture, both classical and folk. We include musical programs, dance performances, home visits, trips to schools and craft centers, and private lectures by experts. We try and accommodate any particular interests expressed by our guests - whether it is cooking, getting clothes tailored, riding an elephant, astrology, or meeting a wise guru!
Dependability
We have been tour operators since 1988, approved by the Government of India, and members of the Indian Association of Tour Operators, guaranteeing quality, high standards and services all over India and South Asia.
Personal recommendations, apart form what we have listed here, are available on request.
You can depend on our record of care, professionalism, security and safety. We are happy to have connected with you and look forward to serving you.